debkeepr: An R package for the analysis of non-decimal currencies
debkeepr is now on CRAN
debkeepr is an R package for the analysis of historical non-decimal currencies and double-entry bookkeeping. Version 0.1.1 is debkeepr's first release on CRAN.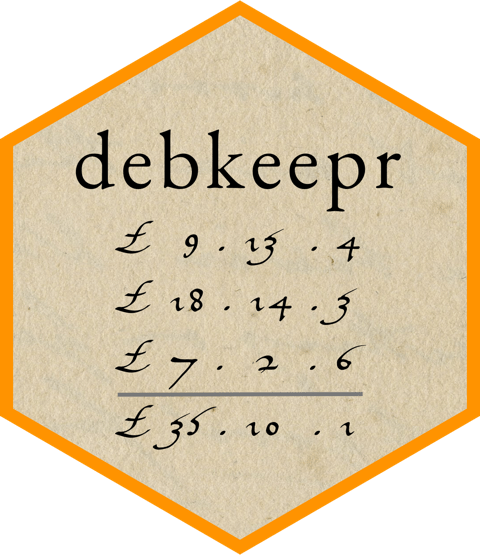 debkeepr is now—finally—on CRAN with version 0.1.1! debkeepr integrates non-decimal currencies that use tripartite or tetrapartite systems into the methodologies of Digital Humanities and the practices of reproducible research. The package makes it possible for historical non-decimal currencies, such as the tripartite system of pounds, shillings, and pence (£465 12s. 8d.), to behave like decimalized values through the implementation of the deb_lsd, deb_tetra, and deb_decimal vector types. These types are based on the infrastructure provided by the vctrs package. The name of the package derives from its ability to analyze historical account books that used the system of Double-entry bookkeeping.
You can now install the released version of debkeepr from CRAN or the development version on GitHub:
# Install CRAN release


install.packages

(

"debkeepr"

)





# Install development version




# install.packages("pak")




pak

::

pak

(

"jessesadler/debkeepr"

)
Please open an issue if you have any questions, comments, or requests.
This release has been a long time coming. I first started to develop debkeepr in 2018 to deal with the problem of performing mathematical operations on non-decimal currencies of pounds, shillings, and pence that was crucial to my research on merchant families in the 16th and 17th centuries. I introduced the package with this blog post in September 2018. After talking to Hadley Wickham at the Tidyverse developer day at RStudio::conf 2019, I completely rewrote the package, using the vctrs package to develop fully integrated S3 vector types that could represent non-decimal currencies. I discussed this process at RStudio::conf 2020. Since then, I have been developing the package on and off, while also using it for my historical research.1 But I never quite got around to putting the package on CRAN. However, progress was made. I kept up with changes to vctrs and dplyr and added a new class for tetrapartite values: pounds, shillings, pence, and farthings. The forthcoming second edition of the R Packages book by Hadley Wickham and Jenny Bryan and the recently updated chapter on Releasing to CRAN helped motivate me to finally prep and submit the package for CRAN release. On 22 March 2023 version 0.1.1 of debkeepr was accepted on CRAN after one quite minor round of changes.